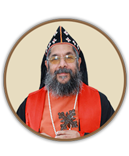 Greetings to the well-wishers of Mar Thoma DSMC, Dearly Beloved in Christ,
It gives me boundless joy to greet you through the official website of the Department of Sacred Music & Communicatons, the music department of the Mar Thoma Syrian Church. The DSMC has been a sententious contributor towards the music ministry of the Mar Thoma Church.

At this juncture, I thankfully remember the life and ministry of Dr Alexander Mar Thoma Valiya Metropolitan, the Visionary and the Founder President of DSMC, and Rev. K. P. Philip, the First Director, and all other Bishops and Directors for their sincere commitment and contributions towards the growth of DSMC time to time.
Now, the DSMC has been blessed with several potential amenities like Hi-Definition Recording Studio, Video Editing Suit and a highly qualified technical support in terms of Music Designing and Broadcasting. In this communication era, I am happy to note that the DSMC is rendering its timely service to the cyber media through www.marthomadsmc.com
I offer my prayers, best wishes and blessings for this new venture.
In Christ,
Rt. Rev. Dr.Abraham Mar Paulos Episcopa
President, Mar Thoma DSMC